How Do You Unclog a Drain?
One of the things parents dread hearing your child say: "The water's not going down the drain!" You are totally repulsed. It's going to be wet, and slimy, and probably smell bad, and, ugh, that's not fun.
Clogged drains are just part of the joy of indoor plumbing. The good news is that you can troubleshoot the issues and prevent them from happening again, including chronic problems. But to get there, we'll need to get into what causes drain clogs in the first place.
Common Causes & and Possible Fixes For Clogged Drains
Most bathroom drain clogs result when dirt, skin flakes, and especially hair binds to soap scum on the walls of drain pipes. Over time, this gunk accumulates and reduces water flow.
Troubleshooting: Remove and clean the drain stopper. Next, try using the humble drain plunger, keeping in mind to block the over-flow drain in the tub or sink. If that doesn't work, remove the drain elbow joint and clean it out. Clean drain stoppers routinely to prevent clogs and use a hair strainer drain-cover to trap hair before it goes down the drain.
Clogged toilets are a nasty business. These mainly happen when people try flushing down items that do not dissolve or break apart in water such as:
feminine hygiene products
cotton-tipped swabs
dental floss
pre-moistened diaper wipes
Troubleshooting: The plunger is the first line of defense. The most effective plungers shoot jets of water to clear the drain pipe. Many have anti-microbial coatings. Next, use an inexpensive hand-powered drain auger. While not a pleasant experience, a hand auger can reach between 2 to 5 feet down the toilet's drain pipe to break-up or retrieve things (such as Junior's action figure) that are blocking the pipe.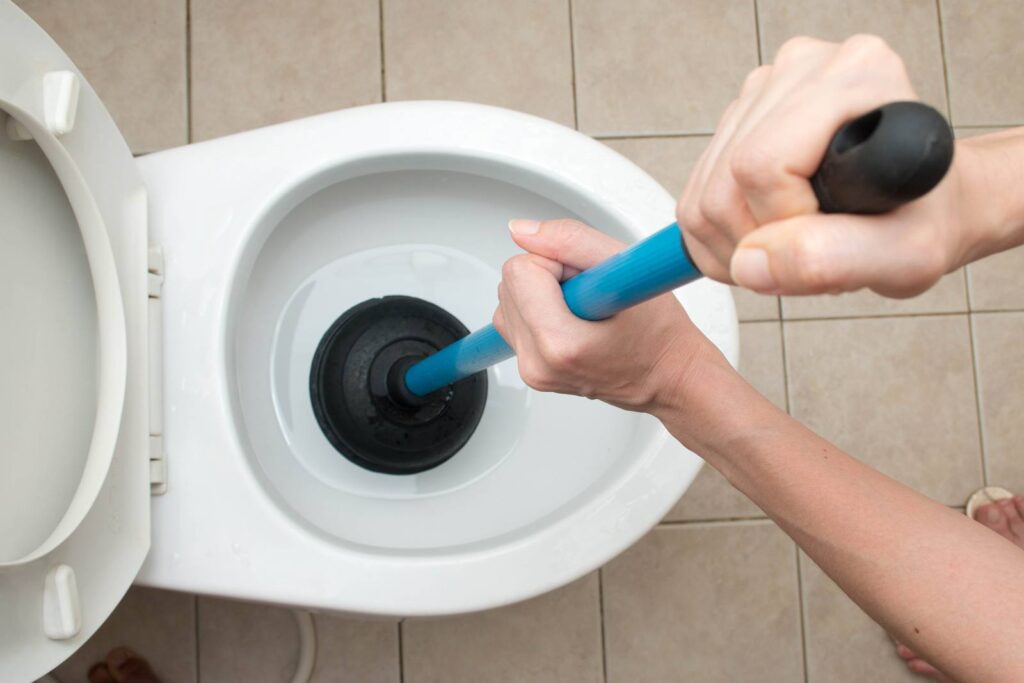 Ways To Unclog A Toilet Without A Plunger Or A Snake
Are you currently experiencing a clogged toilet and have no plunger or a snake to help come save the day? Whether you just moved into a new place or haven't made it down to you nearest Lowe's yet, fear not. Believe it or not, there are actually multiple ways to unclog your toilet with common household items without having to get your hands dirty.
A Wire Coat Hanger
The first method you should try is the Wire Coat Hanger approach. For this you're going to need to grab your nearest wire coat hanger and a rag. To unclog your toilet this way you're first going to need to completely unwind the hanger until it is completely straight with the exception of the hook at the end. Next, completely wrap a rag around the hook end of the wire to prevent any scratching or minor damages to your commode. Finally, you will insert the hanger in toilet and gently rattle the hanger until you feel the obstruction has been moved.
Dish Soap And Half A Bucket Of Hot Water
If you don't want to even bother getting your hands near your toilet (we don't blame you), another alternative is to try to soften the obstruction. To do this grab a bucket of water and some dish soap. First squirt a bunch of the dish soap into the toilet bowl (chopped up pieces of bar soap will work as well). Next slowly pour a bucket of warm water into the toilet. Try to match the temperature of the water to something pretty hot but still would be drinkable, like hot coffee. Now all you have to do is wait until the water in toilet slowly goes down. If this has occurred then your clog has been taken care of. If not, repeat the process over again.
Baking Soda And Vinegar
This method is extremely similar to the dish soap and water method as described above. Once again, you will first need to gather your supplies which are: baking soda and vinegar. You should use an entire box of baking soda to ensure optimal success. Next, dump the baking soda in the toilet and then very slowly add vinegar. Allow the mixture to sit for a while and then flush your toilet. Your clog should be completely taken care of.
Drain Cleaning Chemicals
This method should only be used as a last resort as it can be the least effective and can cause harm to the environment. If you think that obstruction is not something that can be softened then avoid this method and call your local plumber instead.
How To Prevent And Unclog Toilet Blockages And Clogs
How to unclog toilet blockages is not on the top of anyone's "to do" list, or "know how to do" list either. But when needed, it can be a simple task taking only minutes, or a complicated ordeal requiring a professional. As house cleanliness is an inseparable part of a healthy lifestyle, preventing and clearing a toilet clog is a big part of that. You can sweep a dirty floor, wipe clean a kitchen counter-top, and throw away spoiled foods, but you cannot always tell when your toilet is about to get clogged.
Let's all admit a toilet clog is one of those things we go into denial about, especially when we hear those weird gurgling sounds. Let's also admit that there are very few things more unpleasant and unsanitary that a water-backup from our toilet bowl.
Some causes of a clogged toilet
A clogged toilet ruins our floors, bathroom rugs, and puts a damper on the mood all around the house. If you are like most people, a clogged toilet is an almost inevitable occurrence in your house. There are times when somebody throws away something that doesn't belong in your toilet, and flushes it down the bowl. For example toys, plastics, cigarette butts, cardboard toilet paper rolls, and what have you. Sometimes immediately, other times over time, those items will get stuck in your toilet, drain pipe, or somewhere in the S-bend or U-bend toilet trap. Even small objects, like Q-tips, which should go down as you flush, can stick to the pipe and build up a stubborn obstruction.
The most common culprit of is toilet paper, or an overused quantity of it. If you tend to use a lot of toilet paper, do not throw them all together at once and then flush, flushing twice is nice! The toilet has a better chance of flushing everything down the drain pipe when it is not overloaded with papers. Rolling any type of paper into balls does not help either. Another typical issue is sanitary napkins, which should go into the trash bin instead of a toilet. Children may try to flush their toys down the toilet just to see them swirl in a circular motion, then drown! It is probably fun for them, but not for you. You will end up with a clogged toilet, trying to figure out how to unclog toilet blockages.
Get a plunger
There are two different types of plungers: sink and toilet. Although you can probably use either for this purpose, the latter is designed specifically to work inside a toilet bowl. It has a rubber bell-shaped end to fit the bowl, allowing you to generate greater force to push down any obstruction in the S-bend or U-bend trap. A stiff rubber plunger that has been laying around for awhile can be hard to work with. So running hot water on the rubber end of the plunger to soften it up a little bit before you plunge can be a good idea. While you push the plunger in and out, always keep enough water in the bowl to cover the plunger. Without water in the bowl, the plunging action will not be forceful.
Ways to Unclog a Toilet When a Plunger Is Nowhere to Be Found
There's probably no worse feeling than clogging a toilet – that is, unless there isn't a plunger in sight. Most of us have been there before, we tend to use lots of toilet paper and sometimes the toilet just can't handle the load. So, is there actually a way to unclog a toilet without a plunger? Find out below.
Dish Soap & Warm Water
Chances are you have some dish soap in the kitchen. Contrary to popular belief, you can use dish soap for more things than simply getting your dishes clean. In the event of a clogged toilet, squirt a generous amount into the bowl. Then add a gallon of very warm, but not boiling, water. Wait a few minutes and watch the combination of soap and water break up the toilet paper.
Coat Hanger
Have a wire coat hanger in the closet? Unravel it and use it to poke through the clog. Push the obstruction until it frees up and flows down the drain.
Baking Soda & Vinegar
Two more common household items come into play with this method. Pour 1 cup of baking soda into the bowl, followed by 1 cup of white vinegar. Wait a few minutes and then pour a gallon of warm water in.
Here's How to Figure Out Why Your Toilet Keeps Clogging
When a toilet keeps clogging, there are several potential causes of this issue. What you flush down, problems with your drain lines, and issues with the toilet itself are all possibilities.
What's to Blame When Your Toilet Keeps Clogging?
Frequent toilet clogs are a sign something is not right – the issue typically has to do with your plumbing, your toilet, or what goes down it. Common causes when a toilet keeps clogging include:
You have an older model low flow toilet
Items that shouldn't be flushed have been flushed
Too much toilet paper use
The toilet trap is clogged
The toilet vent is blocked
Your sewer line is clogged
Older Low Flow Toilets
If your home is equipped with early model low flow toilets, the fixture itself could be the reason your toilet keeps clogging. Some older low flow toilets simply do not have the pressure needed to consistently push material through the trap and drain. Poor flushing pressure leaves material behind which results in constant clogs.
What to do:
Replacing your older low flow toilet is a sure-fire way to eliminate constant clogs caused by lack of flushing pressure. However, if replacement is not an option, reduce the amount of toilet paper you use and materials flushed to help prevent toilet clogs.
Flushing Non-Flushable Items
The only items meant to go down your toilets are human waste and toilet paper. When households begin to send other types of paper or hygiene products down with a flush, a toilet keeps clogging because it is not meant to dispose of these items.