The Top Three Things Your Wedding Video Should Include
Planning your wedding and reception is a full-time job that can have huge returns for yourself, your partner, and your family and friends. The wedding is sure to be an emotional, life-changing moment and the reception is guaranteed to be a party that no one is going to forget soon. However, having a way to relive the day at the height of its glory is absolutely paramount. So we've put together a list of the top three things your wedding video should include so as to assure you don't lose a moment of it!
First, make sure your videographer gets the personal vows on film. Adrenaline is running so high during the ceremony that it can be easy to remember only snippets of what was said to each other. Whether your vows are self-written or quotes borrowed from others, being able to relive that moment is a huge part of the wedding video.
Next, it's not just what was going on, but what was said. Having fantastic audio makes a wedding video. Speeches, first dances, toasts, and candid banter between guests should all be highlights in your video. Make sure the audio tech and your DJ or band is working together so that nothing gets lost in translation on film.
Finally, pick a videographer who can find the character in your wedding. Whether it's the mother-of-the-bride crying during the exchanging of the rings or the best man cracking up at an inopportune moment during toasts, be sure to catch it. Yes, your wedding is about the two people exchanging vows, but it's also about remembering those candid moments from your family and friends. Catch not only the actions, but also the reactions.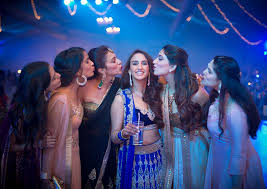 Types of Wedding Videos
Ultimately, your wedding video will be determined by the style. There are multiple types of wedding videography. The most popular are:
Documentary
Cinematic
Short Film
Highlights
Documentary and cinematic styles are longer, anywhere from 30 minutes to an hour, if not more. Documentary wedding videos may include short interviews with family members or other wedding guests, as well as other moments of you as a couple leading up to your celebration, such as the proposal or when you first met.
A cinematic style is known for aerial views of the wedding venue, slow-motion features, and narration or moments of dialogues like you'd expect from a movie. Talk through options with your videographer to discuss what is most impactful, and then pick and choose from the effects of what you like best.
The short film and highlights videos are normally under 10 minutes, with many running three to five minutes. Each is special in their own right and captures the best moments from the wedding ceremony with the addition of filters, music, and other elements, such as voice-over narration or text. Not all videographers include all of these effects during the editing phase. If there are any that you're drawn to, make it known to the vendors that you're meeting with to confirm that they're able to handle that detail.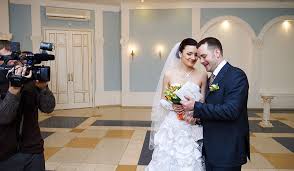 How Long Does It Take to Receive the Wedding Video?
The time of delivery is dependent on how long your wedding video is, but if you're working with a production house, they may have a team of editors that help put together multiple videos on a consistent schedule. Most vendors, whether an individual or organization, take several days to gather footage, add special effects, such as music and filters, and edit down to the requested length. Your videographer should give you a timeline of when to expect your video and check in with you regarding updates.
Tips for a Great Wedding Video
Stage a Movie Marathon
Start by scoping out potential videographers' work from previous weddings. Once you get past the Groundhog Day similarities — another bride, another groom — you'll be able to focus on the differences in your emotional reactions to each.
Then, settle in with some films you respond to visually — note the colors, light, and mood — and give that list to your chosen videographer to use as an inspiration board, along with important elements and a list of the guests you want him or her to target. Better yet, supply photos of your VIPs so you won't need to point them out on your day. The more specific you can be, the better.
Decide About Dialog
When it comes to wedding films, including the original audio is a whole other ball of wax, and it's something you should discuss with your videographer at the outset. I made a creative decision early on not to record audio on my jobs — I think getting the best man's "when we were in college" toast can take a video off the rails. Besides, you don't need audio to see the looks on the bride's and groom's faces.
Be Realistic About Run Time
The 21st-century attention span has been shortened to mere minutes, if not seconds, so I zero in on the moments that tell the emotional story of your day: hands grasping, biting of the lower lip, the loss of breath before "you may now kiss the bride." That's what you'll want to see in the years to come.
Adjust Your Music Expectations
Because of the way media travels online these days, you can't get away with setting your wedding video to, say, a Radiohead tune without securing the band's permission. All music has to be licensed. But you can find something similar to Radiohead on websites designed for this purpose.
Coordinate Your Camera Crew
Videographers and photographers are used to working around each other — cooperating so that they're not getting in each other's shots — and you'll only benefit from putting your photographer and videographer in contact as soon as possible. I usually meet with my counterpart beforehand and draw up something like a football playbook: You go left, I go right, stay at a certain angle. If there's a scene know I really want, I'll set it up so that I can shoot something without the strobe of a lot of flashbulbs firing.
Top Tips on How to Prepare for Your Pre-Wedding Video
When you're preparing for your pre-wedding video, it's important to follow a few processes to get the best quality video possible and to make sure you arrive fully prepared. Let's take a closer look.
Keep your 'look' as close to your natural selves as possible – Don't, for instance, decide to go with a massive image overhaul at the last minute. Any extreme imagery of you can make for a video where it will be difficult to recognize who you are, which may make you feel disappointed with the finished result.
Plan ahead with regard to your concept – For instance, if wish for your video to be filmed at a bungee jump, discuss with your videographer in plenty of time. The same goes for any required planning, such as outfits, makeup, and hair. Give yourself adequate time to get these in place before the shoot.
Don't forget about your partner's wishes. Make sure you're both happy with the concept and style of shoot, as its a representation of your love story